Body Positive via Social Media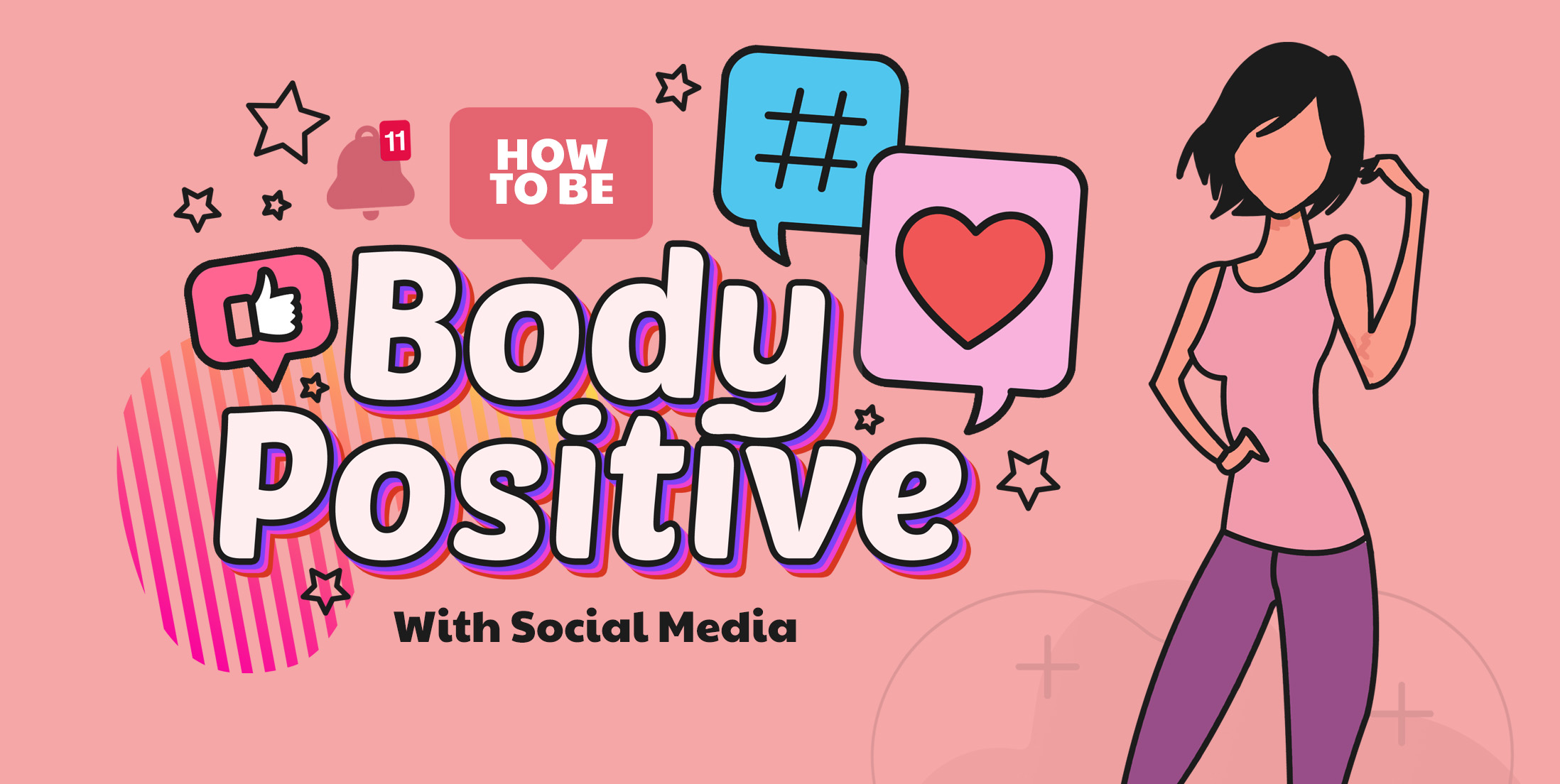 Let's face it we have all found ourselves mindlessly scrolling into an Instagram pit that can only lead to one thing…
Your self-esteem taking a bit of a beating. The digital age of social media, specifically Instagram, can be a safe space and body positive in many ways. However, it can also lead to comparison & self-deprecation, which is becoming increasingly frequent in today's society. Despite this, we all seem to spend countless hours on the app looking at flawless faces, toned figures with abs at the gym, smooth legs and... for what? The only thing it leads to is affecting the way we view ourselves.
On average, people spend around two hours a day on social media, but for young adults, that number can reach around nine hours daily, scrolling endlessly through their timelines. Not only can social media be problematic for your body image, but it can also affect your mental health... but there are ways to combat this. We have put together our tips, tricks & advice below to help you be body positive on social media and in life!

5 Tips on How to Make Your Social Media More Body Positive
1. Have Regular Detox Periods
We aren't telling you to delete Instagram and never go on it again, as that seems like a significant, drastic measure. However, we are saying that taking some time out of your day/week/month to have a detox period can be very beneficial. Although there are negatives that come with social media, it's important to remember that there are also many positives!
It's a great way to keep in touch with friends and people you know worldwide and be an excellent tool for business and work life. Plenty of good will come from having a detox period where you don't touch your account for a few days, a week or even just for a day.
During this time, you should plan some days out or exercise that you will enjoy purely for the benefits of how they will make you feel. Having plans you don't post on your Instagram feed or story will show you that there is more to life than showing others what you do on Instagram. You will probably feel more connected to yourself and the people you spend time with.
2. Re-think the Accounts you Follow
If you scroll through your Instagram feed or look through the stories of people you follow and feel a hit on your self-esteem, this tip is aimed at you. However, unfollowing diet gurus and thin influencers may also reduce your motivation to achieve your goals. Still, it can do the complete opposite.
Many things you expose yourself to on the app can affect your mood. So by only following accounts that make you feel good about yourself and your life, you will start to radiate more positive energy and have a positive outcome on life in general.
As a brief summary; unfollow anyone you compare yourself to that makes you feel worse about yourself.
3. There is more to Life than what you see Online!
When you get into a deep Instagram hole, it can be easy to forget that people's lives aren't all we see online. Remembering that social media is only a narrow glimpse into people's lives is extremely important.
Just because someone looks like they have a perfect life and are hitting their fitness goals, going on amazing trips etc., it doesn't mean they are happy. There may be so many things going on that people don't show online.
4. Stop Chasing the 'ideal' Body Type
Body image is a topic that concerns most and is more common in young adults. Of course, focusing on your body image and the right and wrong body type can be highly negative for your mental health. So, when it comes to being more body positive with social media, you want to stop chasing the ideal body type.
There isn't an ideal body type. Everyone is different in their unique way. People are more preoccupied with what they look like, which ultimately makes them less satisfied with their appearance.
By remembering that there isn't a one body fits all in life, you will be less likely to try and achieve these 'ideal' body types through unhealthy diets, exercise and lifestyle choices.
5. Join the Body Positivity Movement
Recently, body positivity has become a new, popular trend that shows all the positive that can come from social media. Simply searching the hashtag #bodypositive will show you over 16 million photos of the movement many men and women are involved in.
Body positivity is all about challenging dated, narrow beauty ideals and encourages to accept and appreciate all different types of bodies. Whether you have belly rolls, cellulite, battle scars, stretch marks, hair, or bloated bellies, the lot – and we're here for it!
Joining the body positive movement will help you feel more satisfied with your body and love the skin you're in. Everyone can still have goals they want to achieve physically, but with body positivity, you can achieve them without the negative comparison that often comes with Instagram.

15 Body-Positive Influencers to Follow
Sometimes you need a daily reminder that you are fabulous in the skin you're in, so we have done some research and put together a list of body positive influencers that you should follow! These people below celebrate self-love, appreciation and acceptance and will inspire you on your body positivity journey.
15. Nyome Nicholas-Williams

10 Self Help Books for Positivity
There are so many benefits to self-help books, and one of the most important is that it inspires you to make better choices and take positive actions more often than usual. It gives you a new outlook on life and helps you stay positive and achieve your goals in life. Below we have listed 10 self-help books that cover various topics but all link to self-love and positivity.