28 Classy Hen Party Games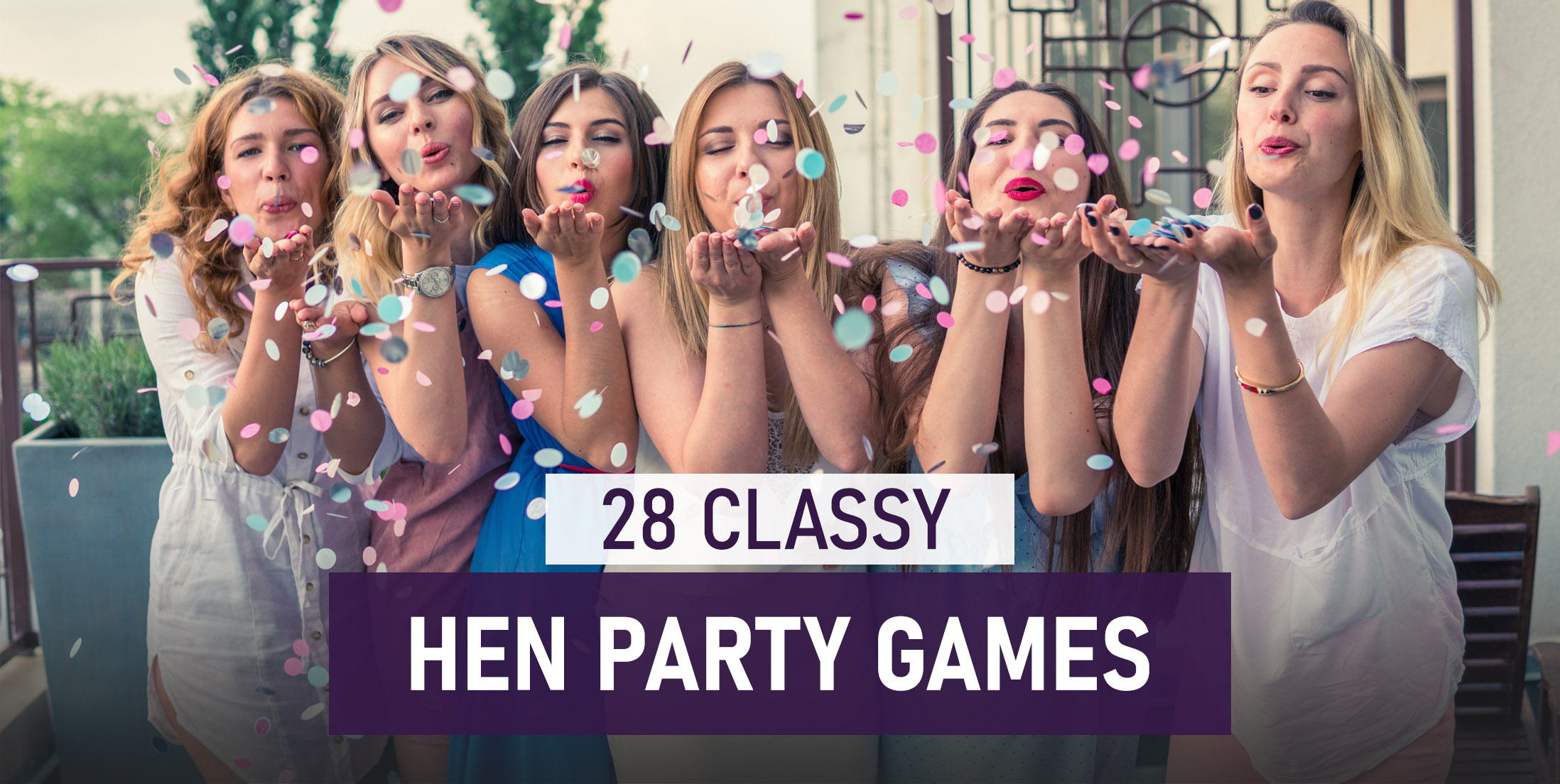 Make sure the celebration is full of sophistication with the added extra of some of these classy hen do games.
Nobody can resist a good selection of games on a hen partyu, right? Even the most sophisticated of groups can especially if you have a big weekend planned with the girls. This will be perfect if you are planning a life drawing hen party and want to add some hen games into the day! We have done all the research for you and put together a list of the top 28 classy hen party games that will be perfect to add into your celebrations.
---
"What Hen Do Games Ideas are there?"
There's a whole host of classy hen party games you and the girls can get up to on the last night of freedom! Whether you're looking to go all-out on a big budget or just fancy celebrating at home with your nearest and dearest, these classy hen party games are fun, easy to play and can be played by everybody on the night! This is also a great way to get some of the less familiar girls in the group acquainted with each other, which will be sure to make for a great night out!
---
1. Mr & Mrs Quiz
Test how well the couple know each other
The Mr & Mrs quiz will take some preparation before you play it as you will have to ask the groom to be questions before the trip. Once you've got his answers to the questions ready you will then be able to ask the bride to be. It's the perfect light hearted bit of fun to see how well the soon to be weds really know each other! You could also have the groom to be on facetime or something if you are wanting to play the game real time.
Check out these hilarious 50 Mr and Mrs Questions!
2. Advice for the Bride
There's nothing like advice off friends
One of the more wholesome hen party game ideas on this list, you can either get nice decorative cards or pre-made advice for the bride cards from places like Etsy. Once you've acquired your cards pass them out to all the girls in the hen group. Then over the duration of the weekend they can all fill their cards with different advice for the bride that surrounds the wedding and marriage topics. At the end of the trip she can then read through them all and keep them as a reminder of the weekend.
3. Would She Rather?
Who knows the bride to be best?
One of the more well-known hen do games out there, the bride will put together different would you rather questions that will relate to her. Once she has got them together she can then say them aloud to the rest of the group. Everyone will then have to write down their answer depending on what they think the bride would rather. Once she has finished saying all the questions she can then go through them giving her answer. The person at the end of the game with the most points wins.
4. Prosecco Pong
Test your aim and your drinking skills
A classic hens night game, grab your prosecco glasses and ping pong balls and get ready to throw! Arrange your glasses in the usual formation and fill them to the top with your favourite fizz. Then take it in turns each team to throw a ball. If you get the ball in the glass the player on the opposite team has to drink the prosecco in that glass. It's that simple…and it's the perfect way to get drunk before the night out!
5. Toilet Paper Wedding Dress
Who says fashion can't include a toilet roll?
You will be able to get creative with this one as you split up into smaller groups and decide on who is going to model your toilet paper wedding dress. With a 10 minute timer on you will be able to use your equipment and plenty of toilet roll to make the best wedding dress. When the time is up your bride will have to model the dress down the make shift runway for the real bride-to-be to judge and decide which is her favourite. Without a doubt, this comes close to the top of the list when it comes to funny hen party games!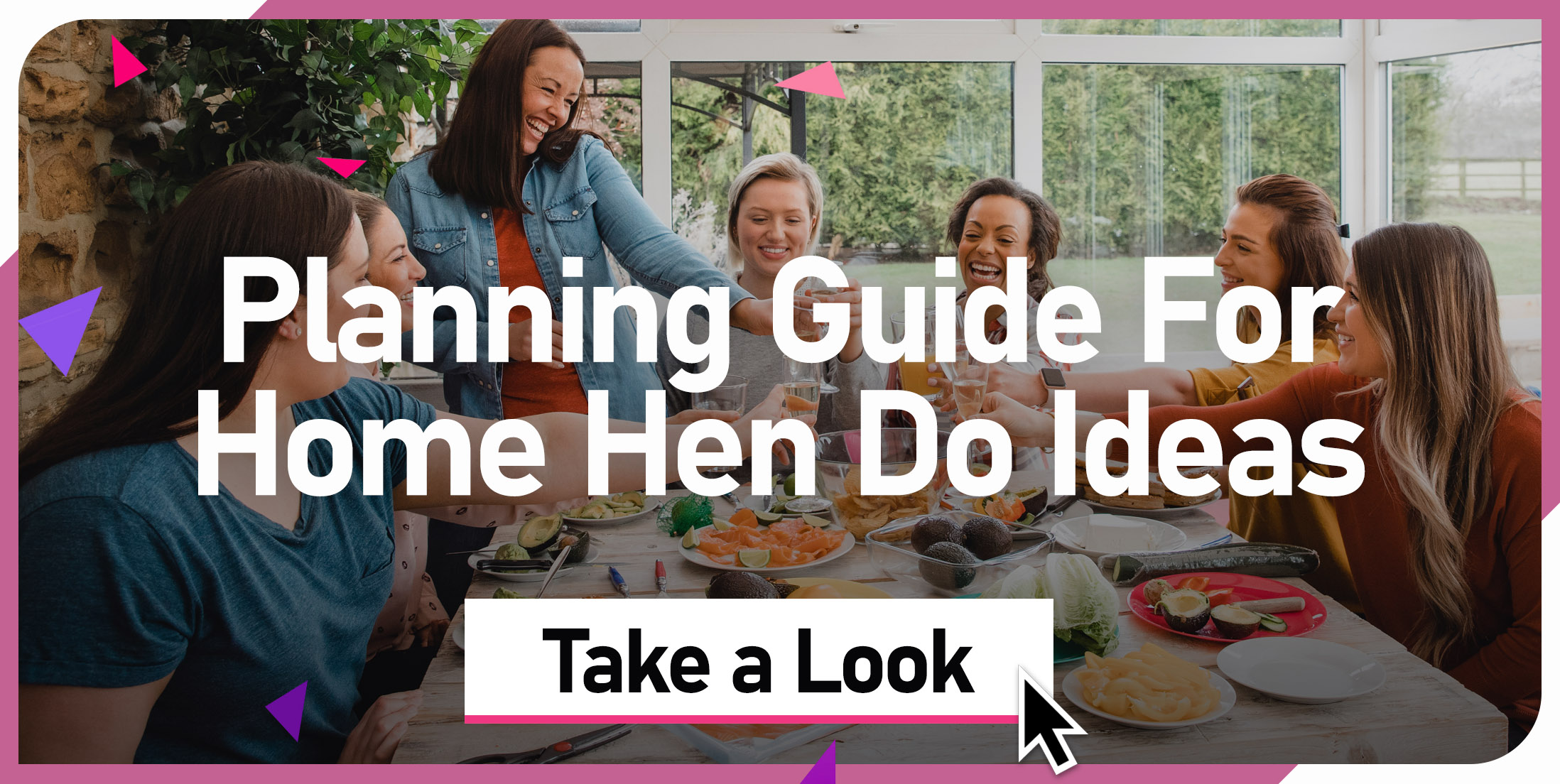 6. Dancing Queen
The best kind of dance-off
If you're looking for hen do games that'll get everyone up and on their feet, this is a great one to take a look at! Start with the bride to be, complete a dance move, and pass it onto the next hen. They then need to perform your dance move and add their own onto the dance. Then the next hen does the same and you keep going until it's a complete dance routine. Each time a hen forgets a move or misses some out they are disqualified. This will keep going until there are only two people left which then ends up as a dance off. The winner will then be crowned as the dancing queen.
7. Girls Night Confessions
Let out your deepest, darkest secrets
All write out a true fact, secret, or confession about yourselves on a piece of paper, fold it up and place it inside of a bag. Then each hen will take it in turns to take out a confession and read it out to the group. Once you have read the confession you will have to take your guesses on who you think its about. If you are right you get to have a chocolate from a chocolate box you've got. If you are wrong you have to take a shot.
8. Hen Party Scavenger Hunt
A treasure hunt for adults
Whether you print out a scavenger hunt printable you find online or you make your own, these hen games are the perfect addition to your evening. If you are heading out on a big night out, then a scavenger hunt is the perfect entertainment option and is is one of those hen party game ideas that won't break the bank either. There will be a variety of different tasks and challenges you will need to have photo evidence of you completing in order to gain the points. The player with the most points at the end of the night wins!
9. Bridal Pinata
Who has the most force behind their hit?
Like your standard game of pinata, bridal pinata is just the same but as well as sweets and treats inside, you will also have bridal themed items like garters, tiaras, veils and more! One of the more unique hen do games on this list, you can get as creative as you want with this one. Take the large hitting stick and take it in turns hitting the pinata until the contents of it falls to the ground. Then of course its anyone's game as you try to pick up as many of the treats as possible.
10. Kisses for the Mrs
Mwah
Take a picture frame and add some backing card that will fit inside of the frame. Then when all the girls are together take a pen and your favourite lipstick and kiss the card and sign underneath it! At the top of the card write kisses for the Mrs and then when everyone has kissed the card place it back into the frame. It's the perfect hen party memento that we are sure the bride-to-be will love and keep as a reminder event.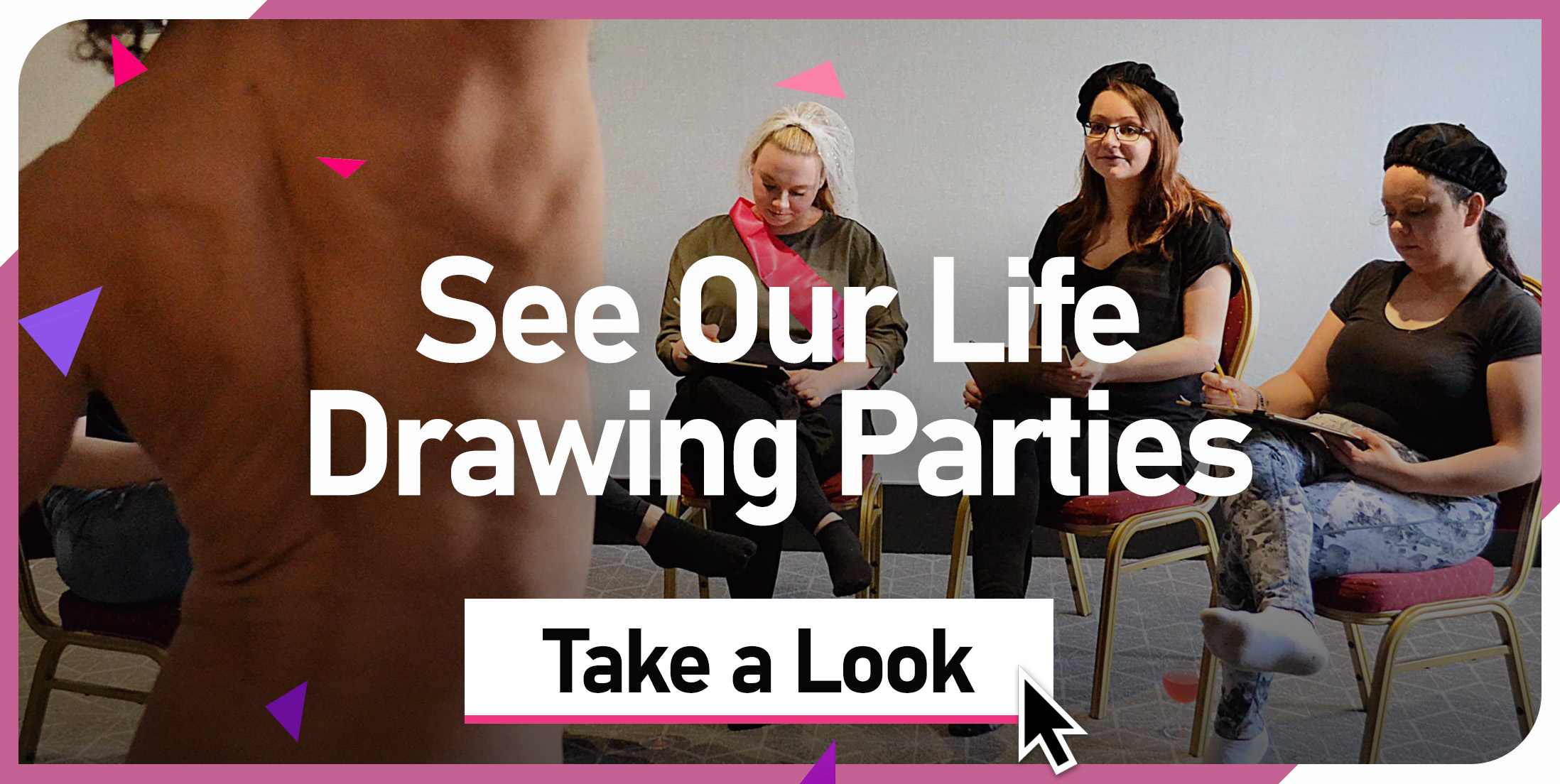 11. Guess the Dress
Whose guess is the closest?
Grab some small pieces of card, drawing materials and make sure all the hens are feeling creative for this one. You will have 10 minutes to draw out what you think the brides wedding dress is going to look like. Once the 10 minutes is up the bride will then take them all in and look through them all. She can then decide which are her top 3 favourite ones and which is closest to what her dress looks like. Of course only if she wants to.
12. Send to All
Keep away from the phone…
This is one of those hen games that doesn't need too much of an explanation. All you need to know is that no phones are allowed during this section of the weekend. If someone breaks this rule then the rest of the group can put together a text message that they send out to the whole of their contacts. This is one of those funny hen party games that will test everyone's willpower to the maximum!
13. Banned Words
Don't say it!
The perfect hens night game to test your memory. Banned words is where you and the girls will put together a list of words that you are all banned from saying. The best thing to do is make them wedding or hen related. Write them all down so that they can't be questioned and if someone says one of the words and gets caught out then they have to take a shot!
14. Balloon Questions
You are never prepared for the pop of a balloon
Get each of the hens to write down a question (as naughty or nice as they want) and place it inside of a balloon. Then blow all of the balloons up and place them around the room. You can then either do it where the bride-to-be pops the balloons throughout the night and answers the questions. Or you can all take it in turns popping a balloon and answering the question that is inside.
15. Gin Pong
Like prosecco…but with gin!
If you are more of a gin girl than you are prosecco, then this is one of those hen games that you're going to love! Whether you want to shot the gin or add some mixer to it both will work perfect for this game. Simply arrange the glasses on either end of a table, 10 on each side. Then fill then with your gin of choice and take it in turns throwing the ball into the opposing teams drinks. If you manage to get it in the person playing on the other team has to drink! And vice versa, the winning team at the end is the ones who got rid of all of the opposing teams drinks!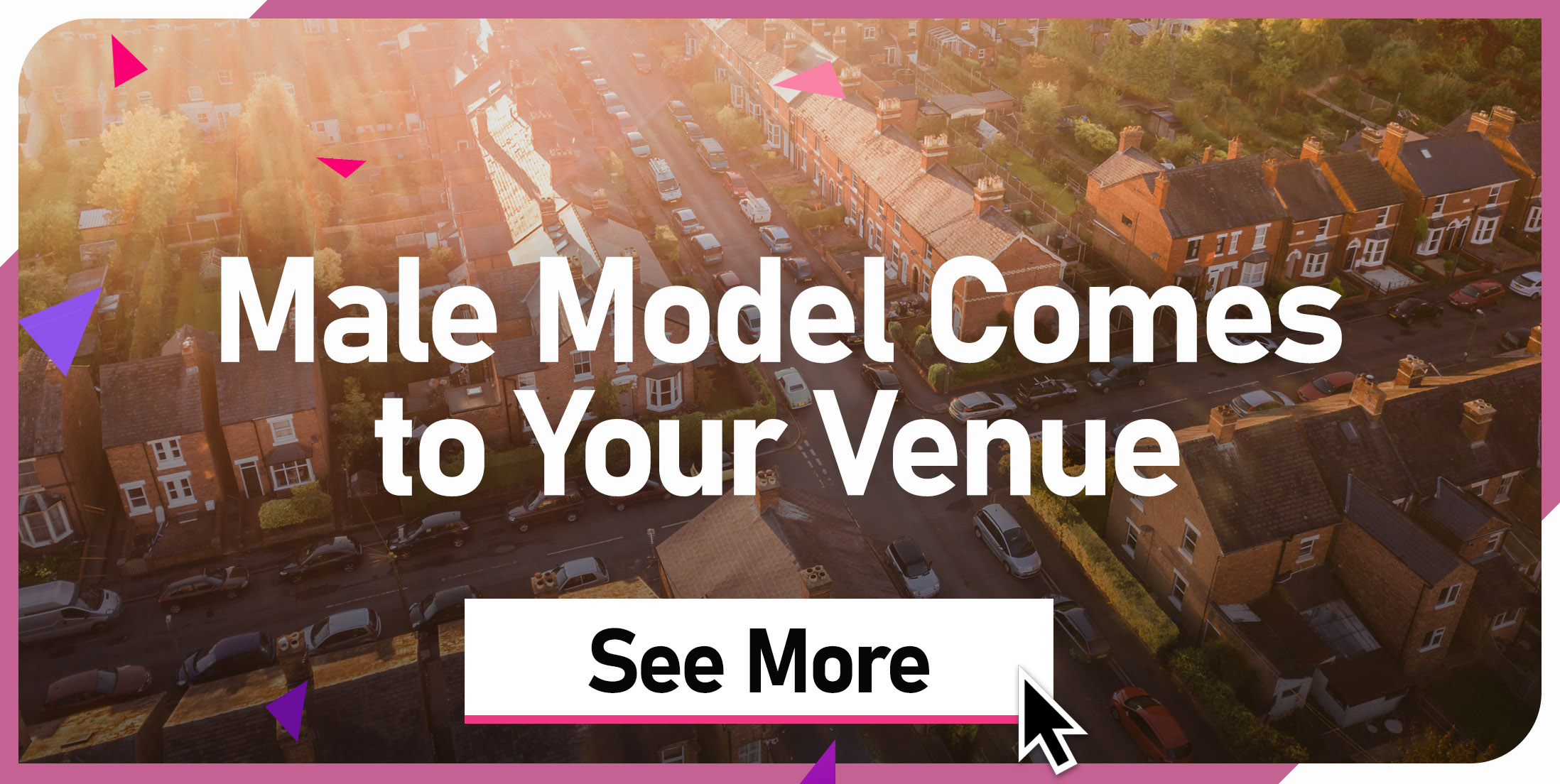 16. Hen Do Pictionary
Channel your inner artist
Whether you're a good drawer or not, hen do Pictionary is always a laugh and something that all the girls will like. Either buy a set of hen themed Pictionary cards online or put together your own by writing down different options on pieces of paper for each player to pick out. As they are drawing the rest of the hens have to try and guess what it is they are trying to draw. The aim of the game is to try and guess the picture in the quickest amount of time.
17. Two Truths and a Lie
How good is your poker face?
We're sure everyone knows how to play two truths and a lie, but if you don't then its one of the easier games to get the hang of. Get all of the ladies together and take it in turns saying two truths and a lie. Once you've said yours the rest of the group then has to figure out which one is the lie! With these hen do games, you have to be convincing and try to keep a straight face throughout the game.
18. Cocktail Challenges
Shake together your own signature drink
One of the more boozy hen party game ideas, this is an extremely fun and exciting way to get creative. Get together a variety of mixers, spirits, and garnishes along with equipment to make your own cocktails. Then take it in turns to use what you want out of the ingredients and shake together your own signature cocktail and give it a name. Once everyone has made one the bride to be will have to taste them all and decide which one she thinks tastes the best!
19. Pinot or Chardonnay?
The game that oozes sophistication
This game will test whether you know your pinot from your chardonnay. A hens night game with a boozy twist, ask each guest to bring a bottle of wine with them but make sure the labels are covered. After you have tasted each wine you will need to say what wine you think it is and how much it would be for the bottle. It's a great game that will be perfect if you are a group of wine lovers.
20. Mr & Mrs Paddle Questions
Will the soon to be wed couples' answers match?
A fun, harmless game that will put the soon to be wed couple against each other. You could do this virtually by facetiming the groom to be during the hen trip. Get one of the guests to read out various Mr & Mrs paddle questions and get the soon to be weds to put up the colour paddle of who they think the statement applies to. It's a great way to see how well they both know each other.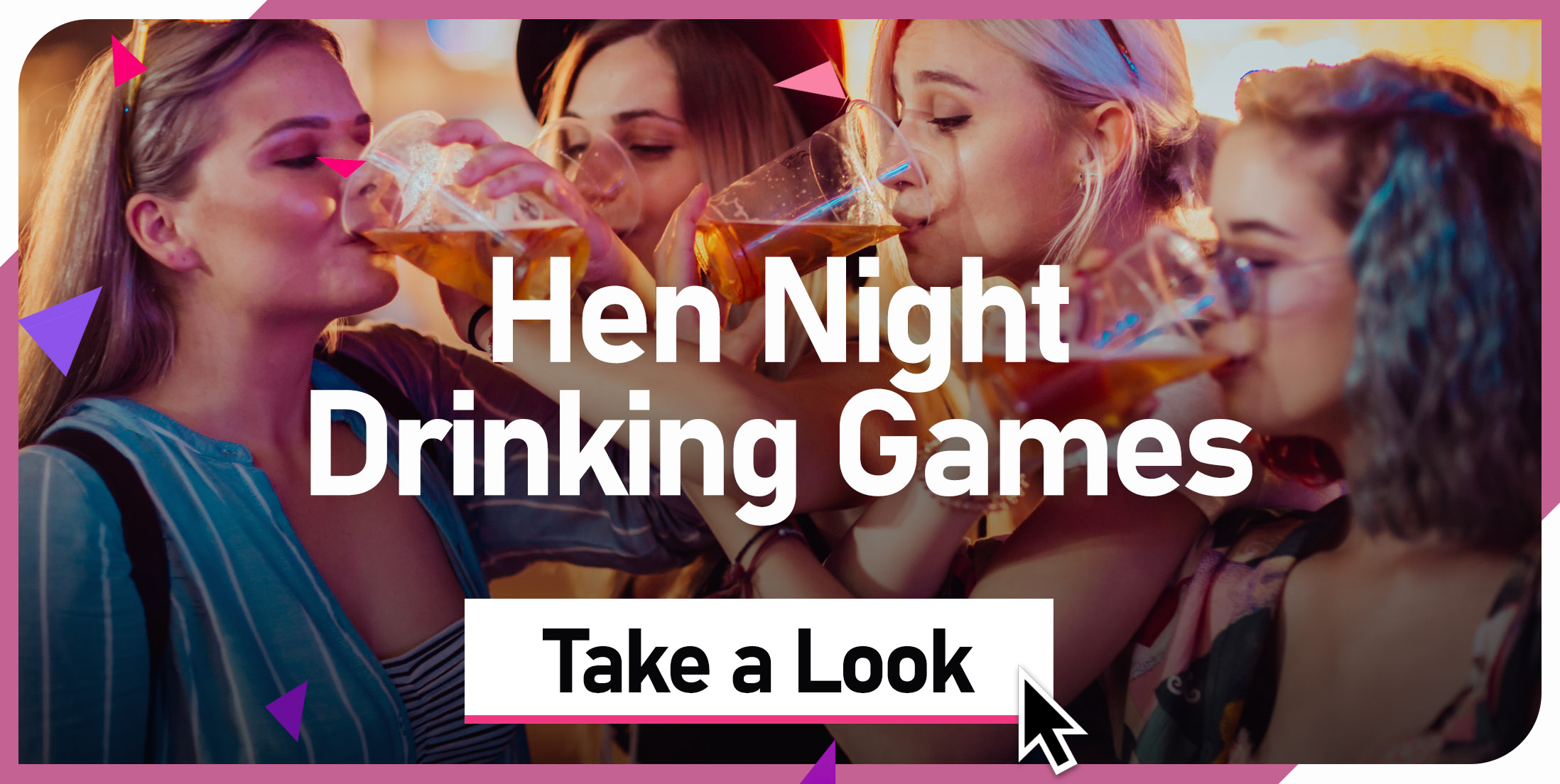 21. Never Have I Ever
Brings out the not so innocent of the group
Never have I ever is a classic game that is played by everyone. Before the hen games begin, make sure you have a good variety of never have I ever questions. Then when everyone is together go through all of the different questions and everyone has to drink if they have done the statement. This game brings out a lot of laughs and you will probably find out a few stories that you didn't know about your friends.
22. Find the Groom
Who will be the one to find him?
This is a great little game that will give you all a bit of fun during the weekend. Simply print out various photos of celebrities and some of the bride to be's celebrity crushes and a photo of the groom. Roll each photo up and place them in a balloon. Then inflate all of the balloons and place them around the venue. Get all the hens to go round popping the balloons, whoever finds the groom wins!
23. Make a Man
Perfect for the child that is still within you
With this game you will be able to get creative. Split your group up into different teams and hand out some plasticine or play-doh. Then each team is given certain body parts to make but they aren't allowed to see what the other teams are making. At the end of the time you will then hand all the parts to the bride to be and she will piece them together and make the man!
24. True or False
Who knows the bride the most?
Before the party the bride to be will put together a variety of true and false statements about herself. Then when its time to play the game she will read out each statement and then all the players will write down whether they think its true or false. At the end of the statements she will then say which were true and which were false. The person with the most points at the end of the game wins! If you're stuck for ideas or have too many, these kinds of hens night games are perfect for working around your schedule.
25. Pass the Parcel
This game has no age limit
Get together a main present and little gifts to put through the different layers and wrap it all before the event. Then, as the game went when you were a kid, play some music and pass the parcel around until the music stops. When it does, unwrap the first layer of wrapping paper. Keep going until someone ends up with the main present at the end!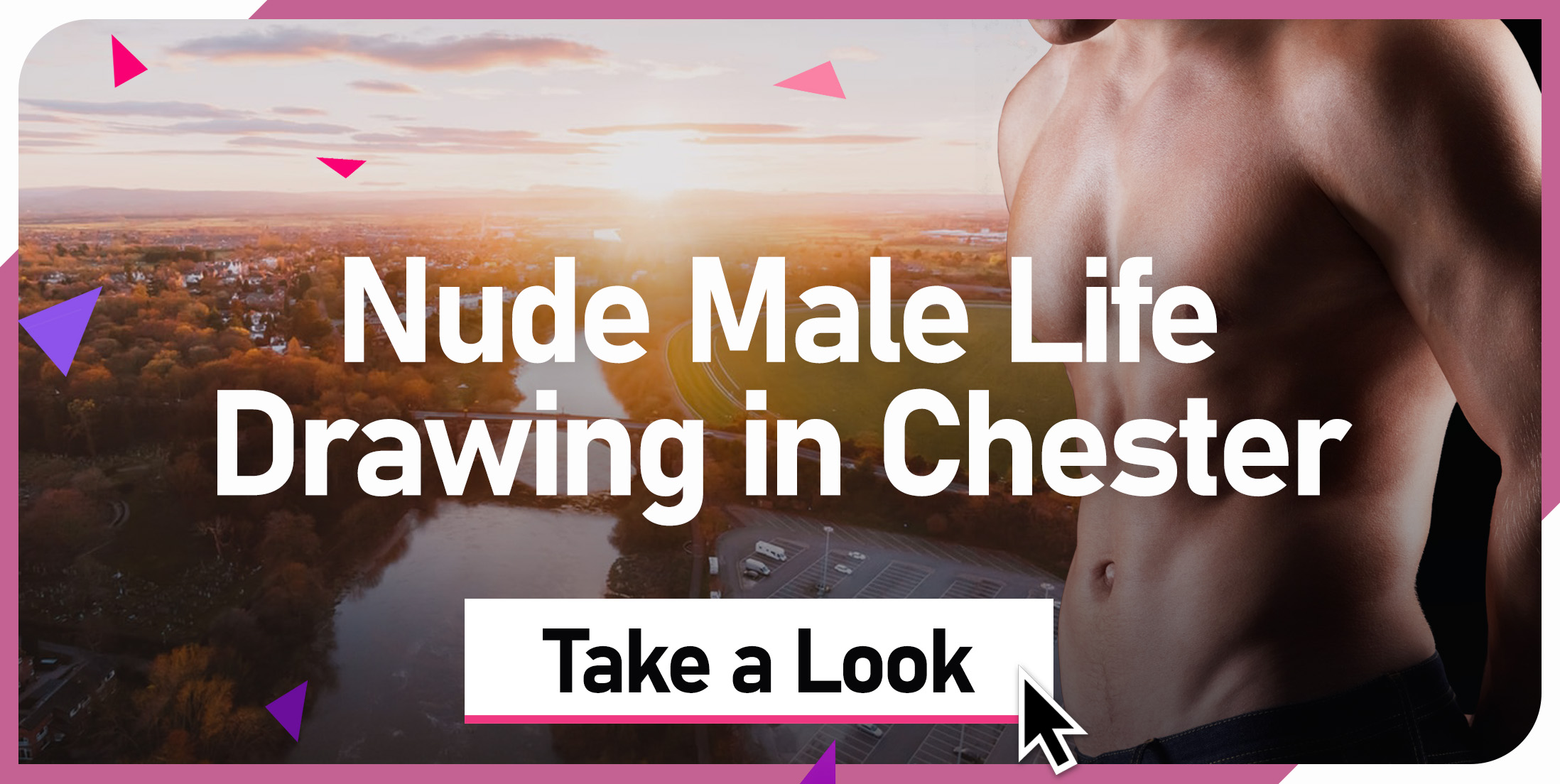 26. The Present Game
Take a trip down memory lane
Each guest comes to the hen party with a present that represents their friendship with the bride to be. The bride to be then opens each present and tries to guess who it is off. This can be done as a lovely gesture or turned into one of many funny hen party games you're bound to be playing throughout the evening, so the choice is yours.
27. Who Am I?
The adult version of headbands
Get a sticky note for each player and let them write down a celebrity on the sticky note. Then give your sticky note to another player and place it on their forehead. Each player gets to ask yes or no questions until they get a no answer. When you think you know who your celebrity is on your forehead take your guess. If you are right then you finish and can watch everyone else guess.
28. Pin the Trunks on the Hunks
The perfect ice breaker
Like pin the tail on the donkey but completely different. Print out a large photo of the bride to be's celebrity crush (or the groom) and stick it to a wall or door. Then blindfolded you will need to try and stick the trunks on the hunk. The closest person to pin the trunks in the right area wins the game! If you're after cheeky hen party game ideas that everyone can have a laugh with, this is the perfect choice.
---
Who Can Play Hen Do Party Games?
The great thing about having a few side-splitting games to play on the big night is that everyone get get involved and have a laugh. After all, every group of hens is different and come in all shapes, sizes and ages. Of course, some of the naughtier games are probably best left alone if your mum or aunties are going to be joining you, but that doesn't mean you can't all have a laugh with something a bit different!
---
What We Do
We have arranged 1000's of life drawing hen do parties up and down the UK. Our most popular location for hen parties is Liverpool.