What Is A Hen Party?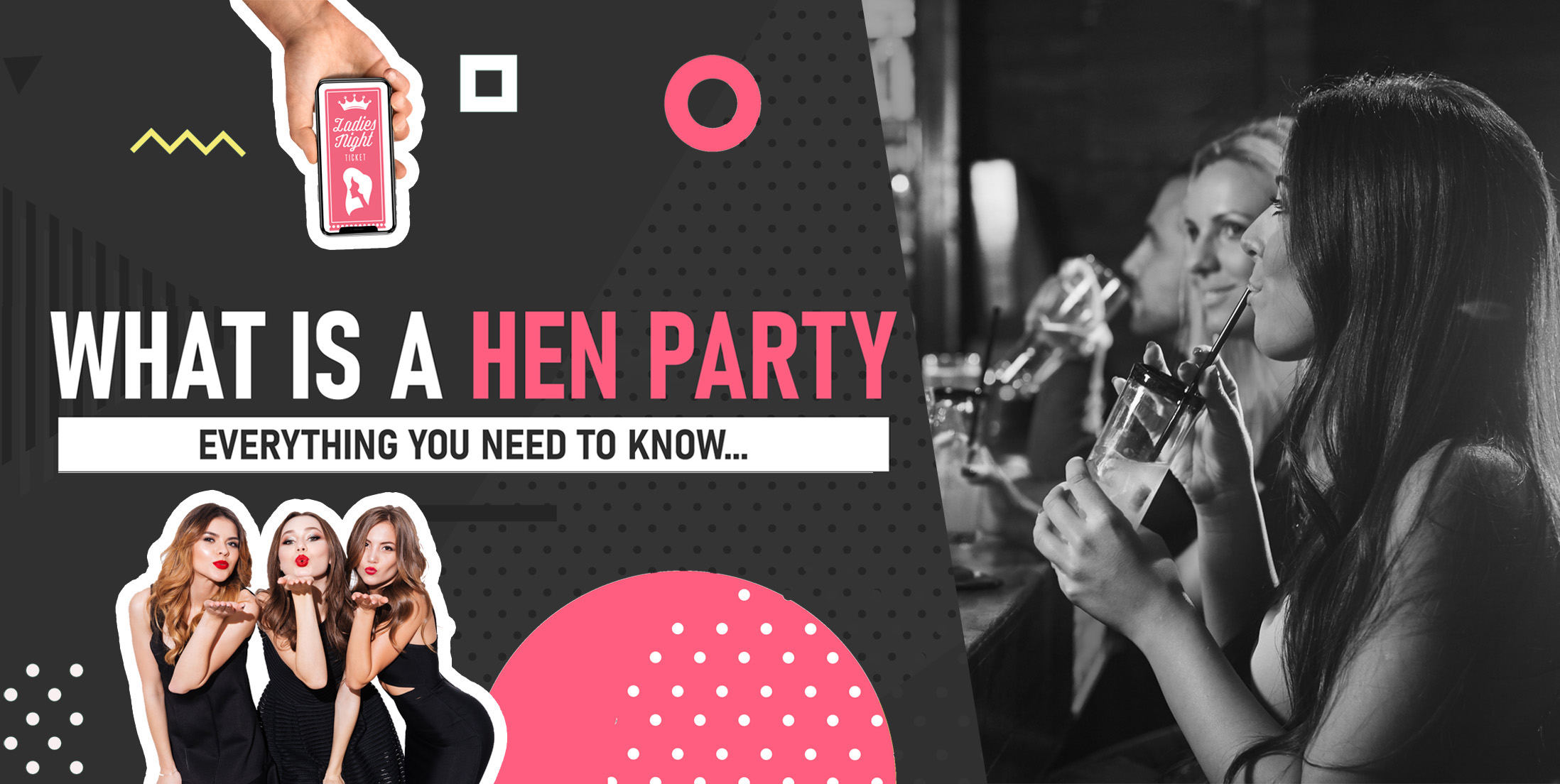 Before you start planning the hen celebration you will need to take some time to research and learn all about what a hen party is!
We have done all the extensive research and gathered the information from being party planners ourselves and put together everything you need to know about what a hen do is before you start! From who goes, what you do and even why a it is a thing in the first place. Once you have finished reading this article you will feel a lot more knowledgeable.
How Did Hen Parties Start?
The Hen tradition in the UK is more of recent phenomenon, the roots of a pre-wedding celebration started off in the 1960/70s. This was when more and more women wanted a party to match the men's pre-wedding celebrations. Which is where the explosion of pre-wedding parties came from in the UK.
Why Is It Called a Hen Party?
The first meaning of hen surprisingly wasn't a female chicken. In fact if you go back to Middle English the word hen was actually used to refer to the female of any bird or any other species of animal for that matter. Therefore a hen party came about to mean a party that was exclusively for females. Anyone that is attending the party is referred to as a hen!

Who to Invite to the Hen Party?
We all know that that choosing the guest list for the big day is a very tough job but figuring out who to invite to your hen do is a completely different matter! A good way to start is to decide what kind of itinerary the day will follow. For example, if you're looking for something chilled and relaxed like an afternoon tea, this tends to be more inclusive and can involve anyone you like. However, as a courtesy, it's important not to exclude anyone regardless of whether you think they will join in or not.
Invite Your Family
We think that it's most important to remember to ask family members (mums, siblings, cousins, aunties) if they would like to join in on the hen party celebrations. After all, if they're going to be a big part of the wedding day, they're going to want to celebrate with you beforehand!
Invite Your Friends
Probably the first people you think about when deciding who to invite on the hen party, make sure you ask your mates if they want to attend but with plenty of notice. Remember; the earlier you book a hen party and hen party activities, the cheaper your booking will be. This also gives your friends plenty of time to make arrangements for time off, put some money aside for the celebration, etc.
Invite Your Partner's Family
Although it may not have crossed your mind, inviting your partner's family on the hen do is a fantastic idea. After all, you'll be in-laws after the big day, so its important to make a good connection with them before the wedding.
Invite Your Work Colleagues
We spend so much of our lives at work, and these are often the places we make the closest connections with people. This is why it's important to remember (or at least consider!) inviting your work colleagues to the hen party. Maybe you've made lifelong friends at your workplace or work with relatives. If so, they would definitely appreciate an invite!
What Happens on a Hen Party?
That's a great question! The answer is simple; whatever you want to do! Planning a hen party isn't easy, but if you've got a rough idea or a very clear-cut vision of how you want to celebrate, we have hundreds of hen party activities to get you inspired. While you may think that every group is out on the town in themed hen outfits and dancing 'til dawn… but the truth is, the celebrations can be whatever you want them to be. Some opt for relaxing and creative activities like a hen life drawing class, whilst others may go for something more action-packed to chase that adrenaline fix! For those who aren't big on drinking, there's also a whole host of healthy hen party ideas that are fun and exciting for parties of all shapes and sizes.
What Is A Hen Weekend?
We all know that Britain's nightlife comes alive on Friday and Saturday nights, hence why so many opt to go on a weekend. This usually consists of either a one or two night break away in a destination of your choice. It is extremely popular to go abroad or equally go to a city in the UK like Liverpool, Manchester, Edinburgh, London, Newcastle, or Leeds! During your weekend you will find plenty of time to enjoy a few activities like bubble mayhen, old school sports day or dance hen parties. Many opt for something energetic in the daytime and a drinking or meal activity in the evening, but the choice is totally up to you!
What Is A Hen Night?
Alas, this is where the phrase "Last night of Freedom" comes from! Just like it says on the tin, the hen night is often the final celebration before the bride-to-be ties the knot. Perfect for all those party-loving hens out there, the hen night is also a great time to just enjoy the company of your family and friends. As we've mentioned, many groups choose to go to one of the UK's infamous party cities for their celebrations whilst others opt for more exotic European destinations.
What is A Hen Party at Home?
The same as a normal hen gathering but held at your home instead. This is a popular idea for hen groups wanting to invite family and friends who live locally and for those who want to celebrate with a few hen party drinking games too. It also may be a good idea it at home if you're running on a tight budget. Have a look through our hen party at home guide for ideas and inspiration on planning the event. There's also tonnes of trending hen party themes you and the girls can take a look at too.
Need some help?
We have organised 1000's of hen party life drawing sessions across the UK for many years. Our team of event planners are available for a chat now. For loads more ideas on how to have the perfect gathering, have a look at these classy hen party ideas you can try oyt for yourselves!